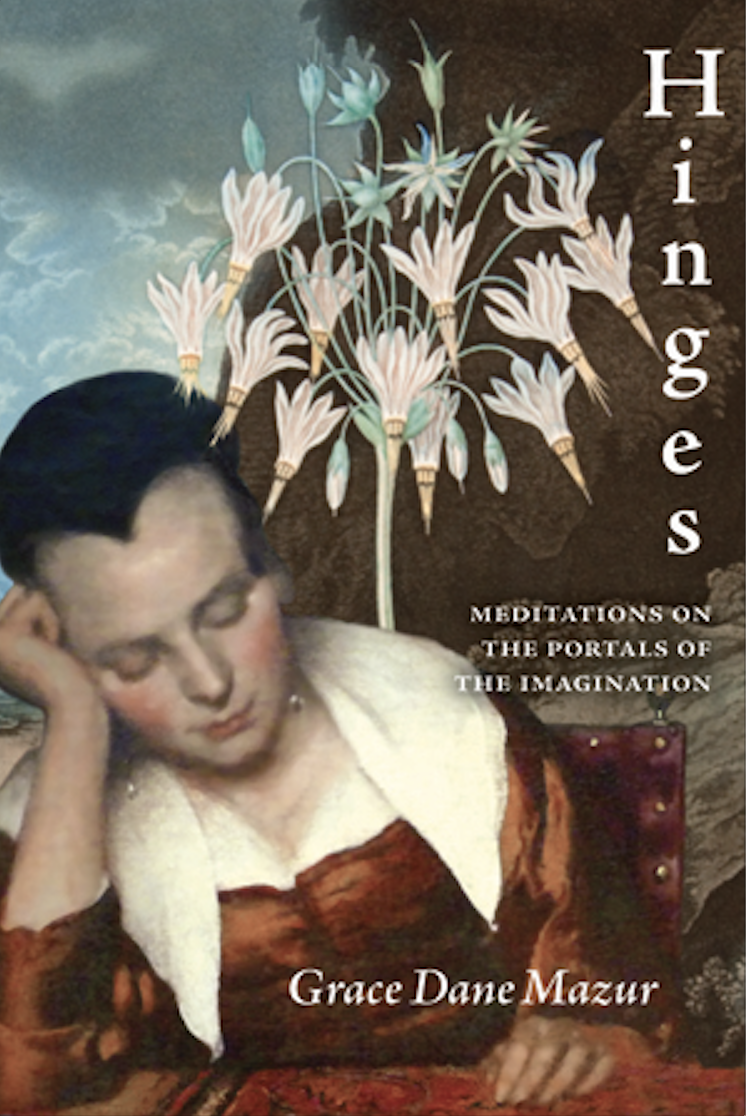 Order From:
the author, using PayPal
the Publisher
Amazon
Click here to download the first chapter of Hinges as a PDF file
What is it to be at the edge of the world of the imagination? How do writers, readers, and thinkers deal with this threshold? How do painters represent it? This unusual book — a combination of personal essay, literary criticism, art history, and memoir — examines what happens when we come under the spell of writing, when we get to that place where we enter into an altered state of consciousness, either as writer or as reader. Mazur uses the idea of hinges to explore what happens at real doorways as well as at metaphysical turning points and transformations — in fiction and poetry, and also in ordinary life. As she ranges from the ancient narratives of Gilgamesh, Odysseus, Parmenides, and Orpheus, to the modern fictions of Katherine Mansfield and Eudora Welty, she presents the hero's exploration of the Other World as a metaphor for how we enter into the entrancement of the novel. Looking at art from the time of the prehistoric caves at Lascaux, through the Renaissance, and up to the Dutch Baroque, Mazur contemplates the structure of Hell; the usefulness of demons; and the paradox of writing and solitude. Along the way, she ponders such questions as: Why are the gates of Hell so noisy? Why is falling in love like a trapdoor? Why is the rotation of the earth uncanny? Why do spiders provoke phobias? What happens when looking is forbidden? What is it about twilight that makes gods behave strangely and brings a brief melancholy to both humans and apes?
Reviews
Review of Hinges by Elizabeth Bachner in Bookslut
Interview by Jessa Crispin about Hinges appearing in Bookslut on Kirkus Reviews Online
Two reviews of Hinges in Libary Thing
Review of Hinges by Mel u in The Reading Life
Review of Hinges by Amy Minton in The Collagist
"Ordinary things can lie around unnoticed until someone comes along whose poetic imagination makes the vital connections and uncovers the riches lying concealed in their depths. Grace Dane Mazur has created an inspired fugue, writing with sensitivity and passion as she finds in the common hinge a multilayered, apocalyptic and powerful metaphor of entrances and exits, openings, initiations and descents."
— MARINA WARNER, author of Phantasmagoria: Spirit Visions, Metaphors, and Media into the Twenty-first Century.
"Hinges, by Grace Dane Mazur, is a masterpiece of literary and artistic insight. To read it is to experience all over again the thrill of reading. It makes you want to revisit the world's great masters of verbal art Homer, Virgil, Milton, and so many others. Page after page, the reader sees something radiantly new about each of them and about the reader's own self at the moment of reading them. The author of this remarkable book has an uncanny instinct for seeing things as they really are at that liminal moment when the reader, in reading, crosses over from the everyday to the eternal. "
— GREGORY NAGY, Francis Jones Professor of Classical Greek Literature and Professor of Comparative Literature, Harvard University
"Mazur's book is strange in wonderful ways. It perches itself on the liminal perspective, where the risks of instability can yield long sight. Reaching deep into inspired erudition, it is filled with quirks and profundities, told in a voice that is both of this world and not.
— REBECCA NEWBERGER GOLDSTEIN, author of 36 Arguments for the Existence of God: A Work of Fiction.
"What lies between everything and nothing — asleep and awake, reader and book, the space between words, the hero/heroine and the world they occupy and from which they must escape — what lies between all that, and on what invisible spring is it all tightly held and delicately balanced and vulnerable to becoming undone? With stunning and direct simplicity, Grace Dane Mazur illuminates these darknesses, revealing an imagination that is original and vital. Here is a book I absolutely needed to read."
— JAMAICA KINCAID, author of Among Flowers: A Walk in the Himalaya.